The Louise Noun Award is given annually by the ACLU of Iowa to honor people who have contributed significantly to the defense of civil liberties.
In 2011, for example, the winners were the three former Iowa Supreme Court justices who were ousted after their courageous stand on the Constitutional rights of same-sex couples to marry. In 2010, it was the plaintiffs in Varnum v. Brien, the historic 2009 Iowa Supreme Court decision that established marriage equality for same-sex couples.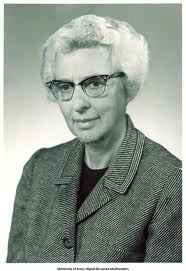 Des Moines native Louise Rosenfield Noun was president of the ACLU of Iowa from 1964 to 1972—then called the Iowa Civil Liberties Union. She served with distinction, most notably taking on and financing the historic 1969 Tinker v. The Des Moines Independent Schools lawsuit, which went to the U.S. Supreme Court and is a nationally recognized landmark decision for student rights and free speech. 
In the larger community, she was an important social activist, art collector, author, philanthropist, and co-founder of the Iowa Women's Archives at the University of Iowa.
She graduated from Grinnell College in 1929, which has since established a program for women's studies in her name. She received an M.A. in art history and museum management from Radcliffe in 1933. In 1936 she married Maurice Noun. The Nouns adopted a daughter, Susan, in 1946. The couple divorced in 1969.
Noun served as the president of the Des Moines chapter of the League of Women Voters in the late 1940s and president of the Des Moines chapter of the National Organization for Women (NOW) from in the mid-1970s. She was a charter member of the Iowa Women's Political Caucus and was instrumental in establishing the Young Women's Resource Center in Des Moines
A key contribution was founding the Chrysalis Foundation in 1989, which funds a variety of causes for women and children struggling to better their lives. She served as president until her death.
She died in 2002, an activist to the end. With declining health, she committed suicide, leaving behind a note denouncing the illegality of assisted suicide.
The first Noun Award was presented in 2004.
To nominate someone, email editor@aclu-ia.org.
Recent Recipients
2019: Kenneth Bunch and Tracy Bjorgum, The Honorable Mark W. Bennett, Randy Evans

2018: Betty Andrews, Russell Lovell, and David Walker, Iowa-Nebraska NAACP
2017: Rev. Anna Blaedel, United Methodist minister and LGBTQ rights advocate; and Sandy Mostaert and Stefanie Munsterman-Scriven, Organizers of the Iowa Women's March
2016: Jamie Fitzgerald, Polk County Auditor
2015: Jean Basinger, prison reform advocate
2014: Dan Johnston, long-time civil rights and criminal justice reform attorney and advocate
2013: Joe Enriquez Henry, State Director of the Iowa League of United Latin American Citizens (LULAC)
2012: Nick Drees, posthumously, former Federal Public Defender for Iowa and president of the ACLU of Iowa board of directors