With the opening of the 2015 legislative session, the ACLU of Iowa is committed to preserving our basic freedoms and ensuring that the constitutional rights of all Iowans are protected.
January 13, 2015
Here are some of the key issues on our proactive legislative agenda: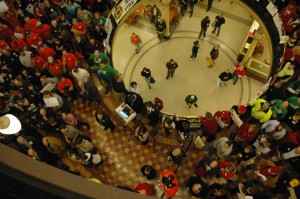 Racial Equality and Fairness in the Criminal Justice System
Mass incarceration system and disproportionate minority incarceration is a crisis in our state:
Over the next 10 years, the prison population in Iowa, already unacceptably high, is expected to increase by 40 percent.
Iowa has the second-highest percentage rate of incarceration of African Americans in the country.
Iowa has the worst racial disparity  when it comes to marijuana arrests: a black Iowan is an average of 8 times more likely to be arrested for marijuana possession in Iowa than a white Iowan, despite equal usage rates.
The ACLU of Iowa is asking legislators to reform to Iowa's drug sentencing laws. We are also asking for a racial profiling bill which will require regular training, data collection and transparency, procedures for obtaining informed written consent to conduct a search in absence of probable cause, and proper institution and funding for police body cameras.
Reform to Iowa's Civil Forfeiture System
Iowa has been in the news for recently exposed abuses in its civil forfeiture system. Coverage has detailed jaw-dropping stories of Iowa's 10-member drug interdiction team and local law enforcement working with for-profit, closely held private companies with names like "Desert Snow" and "Black Asphalt" to seize property from motorists and others in our state. They have done so without any requirement of a criminal conviction, and in some cases, without so much as an arrest made.
Iowa needs to follow states like Minnesota in reforming its laws to allow only property substantially related to a criminal conviction to be seized, and needs to eliminate the for-profit policing motive by directing the value of property seized to go to the general fund.
Protection from Eviction for Domestic Violence Victims and Others Who Call the Police for Assistance
The ACLU of Iowa, the Iowa Coalition Against Domestic Violence, landlords associations, and others are asking lawmakers to ensure that people don't face eviction and other negative housing consequences as a result of calling the police for assistance. You can read more about this issue here:
Expansion of Access to Voting through Free, Fair, and Accessible Online Voter Registration
It's time for Iowa to develop a uniform, accessible online voter registration system. It's important that the system be free, fair, and accessible. That means it cannot exclude Iowans who do not have an Iowa driver's license or non-operator ID. Read more here:
Standardization and Reform of Use of Tasers in Iowa
A two-year study on Tasers in Iowa  by the ACLU and University of Iowa College of Law Human Rights Clinic has found that Iowa law enforcement policies on these potentially fatal devices are woefully inadequate in providing clear, dependable guidelines to officers. We're calling for legislation to reform and standardize their use. To view the complete report, including how your local sheriff's office's Taser Policy fares, click here:
Fair Access to Driver's Licenses for Immigrants in Iowa
In Iowa, access to a driver's license is often necessary to survive: to work, go to school, get to the grocery store, even to access medical care. Enabling all of Iowa's immigrants' access to driver's licenses improves roadway safety for all by ensuring that all drivers get tested on their driving skills, know the rules of the road, and have access to mandatory insurance. There are legitimate and sound avenues—like Passports and Consular Documents—for individuals to reliably verify their identity. The ACLU of Iowa is a part of a broad coalition, including law enforcement leaders and business interests, that is pushing for expanded access for immigrants who lack documentation of authorized presences. To learn more, click here:
The ACLU of Iowa is committed to helping legislators enact constitutional laws that protect and advance civil liberties of Iowans, and for holding them accountable for their voting records.
Click here to see the ACLU of Iowa's analysis of how Iowa legislators voted on key civil liberties issues during the 2013 and 2014 legislative sessions.