Veterans with disabilities resent having to vote in a manner that assumes they are unable to think for themselves.
April 2, 2014
A group of residents in the Iowa Veterans Home asked for the ACLU of Iowa's help in changing the law for voting in Iowa's hospitals and residential care facilities.These residents and  other long-term care patients in Iowa are not trusted to complete absentee ballots unattended, a practice they say is demeaning.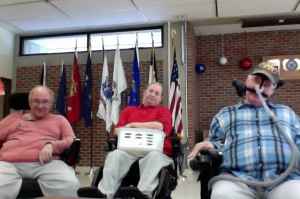 Iowa Veteran's Home residents object to the patronizing way in which they must vote. From left: Rodney Croskey, Marvin Nelson, and Mike Croskey.
Able to Decide for Themselves
These veterans rightly assert that the current Iowa law wrongly assumes that all people with illnesses or disabilities are unable to vote free from the undue influence of others. Other Iowans can request an absentee ballot, which they receive in the mail or pick up. They then cast the vote in privacy and return the ballot by mail or physically deliver it by a certain deadline.
Under current law, Iowa voters who reside in a health care facility who would like to vote are notified of the time when a bipartisan team will come out and oversee voting. If a voter will not be available at that time, that person must reschedule. If physical assistance is needed, a voting team member or another designated person (with some exceptions) is allowed to help the voter.
Want to Vote Like Everyone Else
Instead, these vets want to be able to choose whether a team comes to their facility and watches over them while they vote. They would like the option to vote with an absentee ballot the way other Iowans do. The ACLU of Iowa is working with legislators and others to fix the law.
Click here to see a video of the Iowa Veteran's Home residents talking about their desire to vote with dignity. 
Click here to read more about the residents' individual stories. 
Latrice Lacey, ACLU of Iowa lobbyist and staff attorney, said the current law exists because of an incorrect presumption that residents of health facilities would be forced to cast votes under pressure from facility employees, family members, or others.
Working for a Change in the Law
"In Iowa, the law appropriately protects the right of a person with disabilities to vote, unless a judge has adjudicated them incompetent to vote. Simply because thes Iowans are in health facilities, they are being treating unfairly," Lacey said.
"The veterans I have spoken with are especially uncomfortable with two voting officials standing over them and watching them vote," she said. "They fought for their country, but now they don't have the same process to vote as everyone else does."
The ACLU is advocating for a process where people in health facilities can choose for themselves if they want a team supervising their absentee vote. If not, they could cast their absentee ballot like all other Iowans.