What You Can Do
Contact your state senator and tell them you want them to support HJR 14!
To find your state senator and their phone information, click here.
Otherwise, use our easy form to email your senator in just seconds.
Background
Iowa is the only state in the country that takes away voting rights—for life—from anyone convicted of a felony.
A felony can be the theft of an item valued at $1,501 or more or damaged property. So someone who steals an expensive bike can have a felony conviction. You can also be convicted of a felony if you are caught with a certain amount of marijuana.
Denying Iowans the right to vote does nothing to keep our communities safer or make our democracy stronger. In fact, it does the opposite. It prevents thousands of Iowans from successfully reintegrating into society and becoming active, invested participants in our communities and our state.
And because of continuing racial disparities in Iowa's criminal justice system, Black people in Iowa have been disproportionately hurt by this law; about 1 in 10 voting-age African-American Iowans are being denied the right to vote because of a felony conviction.
A Constitutional Amendment
The ACLU of Iowa supports an amendment to the Iowa Constitution that will once and for all stop the permanent disenfranchisement of Iowans with felony convictions.

What About an Executive Order?
An executive order would be faster, but the Governor has decided against issuing one and instead supports a constitutional amendment. The Governor has said, "I don't believe restoration should be in the hands of a single person," like it is right now. Gov. Reynolds could issue an executive order, and another governor could sign a different executive order to reverse it. In fact, that's exactly what has been happening in Iowa over the past couple decades.
A constitutional amendment is needed for permanent change.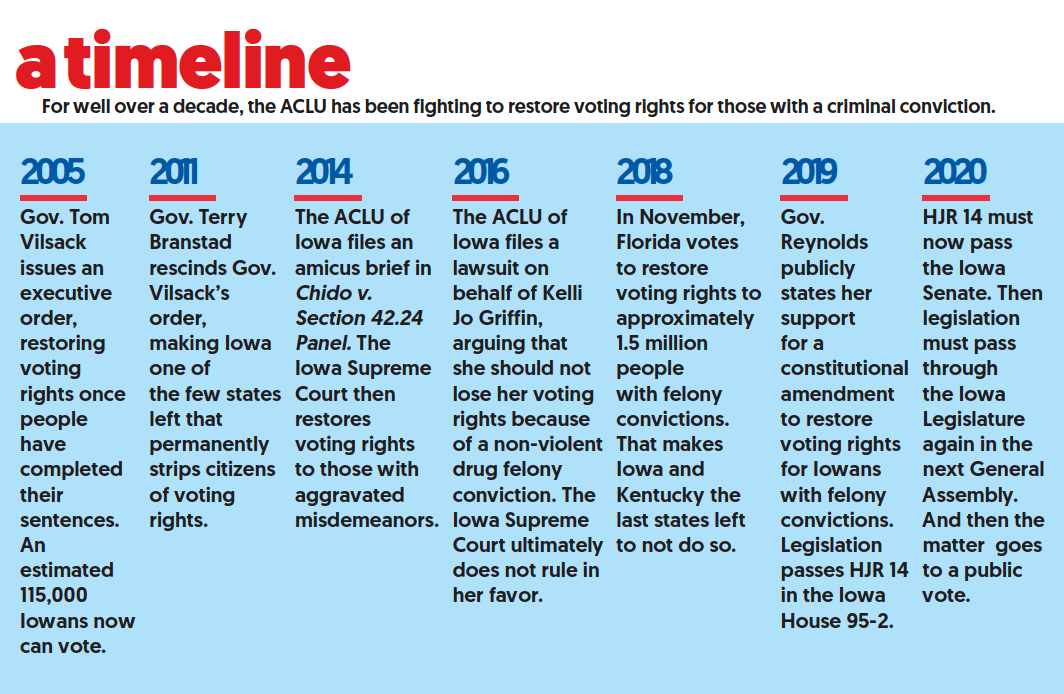 Current Legislation
Gov. Reynolds is supporting legislation that will amend the Iowa Constitution to right this wrong. Last session, HJR 14 passed through the Iowa House overwhelmingly. Now it needs to pass the Iowa Senate. 
The ACLU supports this legislation It's important that it not be amended to make exceptions for people paying off fees, fines, or restitution before voting. That would mean that people with money could vote, and people without money could not vote. 
Other Links: